Honouring our former partners
The love for a horse is just as complicated as the love for another human being…if you never love a horse, you will never understand. – Author Unknown.
This pages honours our retired and deceased horses, all of whom have left their hoofprints at Coveside and in our hearts.
Jody
Deceased 2010
Gender: Mare
Color: Chesnut
Breed: Thoroughbred
Jody was Jackie's hunter and equitation superstar during her teenage riding years. She was a brave and talented horse, with whom Jackie learned many things under the tutelage of coach Jill Hamilton. Jody produced foals in her later years, and is buried here on Haddon Hill.
Spritzer (Mythical Spirit)
Deceased: 2012
Gender: Mare
Color: Gray
Breed: Trakhener/Quarter Horse
Spritzer was the fiery and talented dressage partner of boarder Dianne MacDonald. Until her last year or two, she could be counted on to offer up fireworks if the mood overtook her. She loved her retirement in the broodmare band, and was a loyal and respected auntie to the foals born under her watch.
Rosie
Deceased: 2012
Gender: Mare
Color: Bay
Breed: Thoroughbred
Rosie was a sweet mare who lived out her later years in company with Spritzer.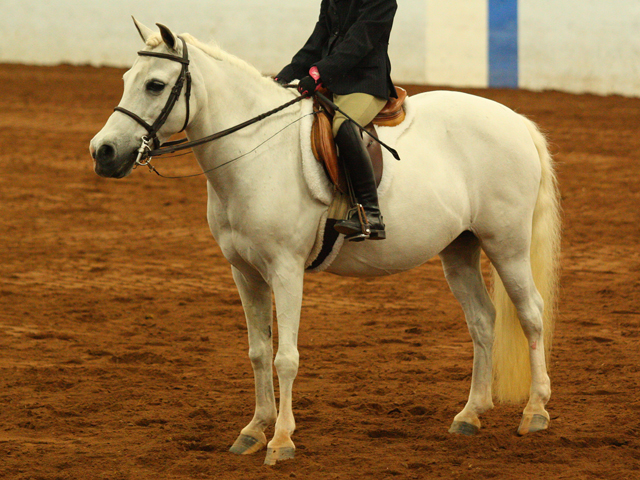 Nikki – "Nickolodeon"
Deceased: 2016
Gender: Mare
Color: Grey
Breed: Welsh Pony
You name it, Nikki did it. We thank her for bringing many children through the ranks of lead line and walk-trot. Nikki was a one of a kind pony, a bandy-legged, big-hearted bundle that everyone loved. She spent her retirement mentoring the ponies and living out her remaining years free-roaming Coveside's hills and pastures.
Bling
Deceased 2017

Gender: Gelding
Color: Appaloosa
Breed: Connemara
Bling was a mighty machine. Not wanting to be a pony, he grew to be a small horse with an amazing motor. He loved the jumper ring. Unfortunately, his eyesight failed at an early age, and after spending a few years adventuring willingly through our trails, he died in 2017. Bling was a little Appy with a great heart.
Kira – "Rio's Laskira"
Deceased 2017
Gender: Mare
Color: Dark Bay
Breed: Warmblood
Kira was a retired jumper mare, who produced several nice foals for Coveside. She is pictured here with Katara. Kira was a big, athletic alpha mare, and she guided her band through the vast pastures here at Coveside with the grace of a true matriach.

Aggie – "Baywatch"
Deceased 2017
Gender: Mare
Color: Bay
Breed: Belgian Warmblood
This amazing mother was truly a miracle. Aggie sustained a life threatening injury on the show circuit, and she came to Coveside to recuperate. She was a wonderful broodmare, and she proved several times that she was meant to be raising babies. Aggie started her sport career in the hunter ring, and we were thrilled that she found her way back to Coveside. She is pictured here with Ava.
Oaks – "Rum Runner"
Deceased 2017
Gender: Gelding
Color: Bay
Breed: Hanoverian/Thoroughbred
Rum Runner is Jackie's retired jumper, and he died in November, 2017 at the great age of 26 years. He carried her to many awards and championships in Atlantic Canada, Ontario, Quebec and Florida. Jackie described Oaks as "a friend for life and one of the reasons Coveside exists. For those of you who don't know Oaks, he is the reason I am in this sport. 20 yrs ago when I first started with Marni von Schalburg, we bought Oaks at a show in Florida. He was a goofy 6 year old who couldn't really canter but with time and patience, he became one of the best in the sport for his division. Competing for years in the 1.20/1.30's throughout Ontario, the US and finally here in Nova Scotia. You couldn't beat him in a jump off! As he aged and the height of the jumps dropped a bit, he was still unbeatable. He loved his job and it showed! He taught many the ropes on his retirement tour as he was an amazing teacher. Once fully retired, he still had his daily routine and his day timed around his meals and his donkey, Jimmy. When I think of a horse that impacts a community, it is this horse. He started my dream of having my own business one day. Without him, Coveside may never have come to be and the horse community of Nova Scotia wouldn't have this place to develop the sport. For some of you reading this who are still in the sport, new to the sport or just recently moved away from the sport; this horse epitomized what it takes and to love what you do and do what you love."